Sunscreens are supposed to prevent sunburns and the harmful effects of UV rays. Applying sunscreen can help reduce premature aging and lower the risk of skin cancers. However, evidence has emerged proving that some of the sunscreens we use to block ultraviolet radiation may contain an industrial chemical known as benzene.
Serious questions have been raised ever since this chemical was discovered in sunscreens. How did it end up there? Were the manufacturers aware of this cancer-causing ingredient in their sunscreen products? Keith Law Group handles mass tort cases in Arkansas. We can represent you if you've been diagnosed with cancer brought about by using sunscreen contaminated with benzene.
Call (479) 326-7734 today to speak to our legal team about your Arkansas sunscreen recall lawsuit. Our knowledgeable personal injury attorneys will advise you regarding your rights and responsibilities. Get in touch with our Neutrogena sunscreen cancer lawsuit lawyers today to find out if you have a case.
Why Are Sunscreens Being Recalled?
On July 14, 2021, the American multinational corporation Johnson & Johnson Consumer Inc. (JJCI) voluntarily recalled five aerosol sunscreens by NEUTROGENA® and AVEENO®. The company advised consumers to stop using five sunscreens, namely:
• NEUTROGENA® Beach Defense® aerosol sunscreen
• NEUTROGENA® Invisible Daily™ defense aerosol sunscreen
• NEUTROGENA® Cool Dry Sport aerosol sunscreen
• NEUTROGENA® Ultra Sheer® aerosol sunscreen
• AVEENO® Protect + Refresh aerosol sunscreen
Valisure first highlighted the high benzene levels in Neutrogena sunscreens. Valisure is an independent lab that examines the chemical makeup of consumer products and drugs. According to the online laboratory, 78 sunscreen products contained higher than recommended amounts of benzene. Valisure even went on to file a citizen petition with the FDA regarding their findings.
Seven weeks later, Johnson & Johnson recalled five sunscreens from their product lines. In short, sunscreens that were produced and marketed as products that would prevent skin cancer ended up doing the reverse. They contained high levels of benzene, which could potentially lead to cancer.
What Is Benzene?
Benzene is a colorless and flammable liquid that quickly evaporates when exposed to air. This chemical dissolves slightly in water and has a gasoline-like odor. It is highly toxic and can lead to severe side effects when touched or swallowed. You may also experience adverse side effects when you breathe it in.
Benzene is found both in nature and in manufactured products. This compound can be found in gasoline, crude oil, and cigarette smoke. Rotting food, forest fires, and volcanoes may also produce benzene.
Manufacturers use this organic chemical compound to make products such as:
• Medications
• Detergents
• Lubricants
• Dyes
• Plastics
• Pesticides
• Rubbers
If you believe your sunscreen contains benzene, you should reach out to a Neutrogena sunscreen cancer lawsuit lawyer. At Keith Law Group, we are ready to listen to your case and advise you accordingly. We can help you file an Arkansas sunscreen recall lawsuit today to receive compensation for your damages.
What Are the Side Effects of Benzene Exposure?
The Environmental Protection Agency has categorized benzene as a known human carcinogen. This implies that it can cause cancer in human beings.
Long-term exposure to benzene can cause leukemia. This is a blood cancer that happens when there's an influx of abnormal blood cells. It usually involves the uncontrolled growth of the body's white blood cells.
Benzene may harm the immune system and affect how the body's cells work. When you apply sunscreen containing benzene on your skin, the body absorbs it. This chemical gets into the bloodstream and leads to blood cancer.
Common cancers associated with benzene exposure include:
• Acute lymphocytic leukemia (ALL)
• Multiple myeloma
• Chronic lymphocytic leukemia (CLL)
• Non-Hodgkin lymphoma
The main symptoms of leukemia include fever, excessive sweating, weight loss, dizziness, fatigue, bone pain, recurrent nosebleeds, and loss of appetite. If you have used any of the recalled sunscreens and are experiencing any of these symptoms, you should immediately reach out to a medical professional.
How one is affected by benzene exposure mainly depends on the duration of exposure, the amount of benzene one is exposed to, how it got into the body, one's overall health, and their age.
Once you get a prognosis about your condition, Keith Law Group can help you file an Arkansas sunscreen recall lawsuit. We will use your medical records to prove the severity of your condition after benzene exposure. Our sunscreen lawsuit lawyers in Arkansas will also gather evidence to prove how the condition severely impacted your life. Remember, it's important to preserve evidence, including recalled sunscreen bottles and proof of payment.
What Sunscreens Are Safe to Use?
Not all sunscreens contain benzene. There are many products in the market that consumers can still use that aren't contaminated with benzene. According to Valisure, some of the popular brand names that are safe to use include:
• Neutrogena
• Revlon
• Equate
• Sun Bum
• Aveeno
Here's the complete list of safe to use sunscreens that didn't contain traces of benzene according to the independent laboratory, Valisure.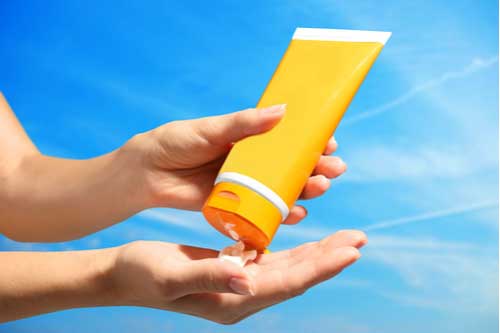 Is Oxybenzone Also Dangerous?
Oxybenzone is an organic compound used as a sunscreen agent. This compound forms colorless crystals and absorbs UV-A rays. The Food and Drug Administration terms oxybenzone as safe and effective.
It is estimated that over 97% of Americans have oxybenzone within their bodies. This hormone-disrupting chemical has been linked to thyroid problems in men and women, endometriosis in women, and skin allergies.
Evidence has suggested that oxybenzone may be linked to aquatic toxicity. It may have hazardous effects on the health of coral. As a result, Hawaii banned the use of sunscreens containing oxybenzone and octinoxate, citing the need to preserve its marine ecosystems. The ban took effect on January 1, 2021.
How Do I Know if I Have Been Affected?
For every defective product case, there are various considerations that have to be made. Remember, every case is unique. You require the help of an experienced mass tort lawyer to help you with your Arkansas sunscreen recall lawsuit. You may be eligible to file a lawsuit if you used one or more of the recalled products. You should also have been diagnosed with cancer to be able to take legal action.
Keith Law Group will look into how long you have used the recalled products. Our legal team will find out the extent and severity of your condition as a result of benzene exposure. We will also speak to medical experts to understand if you have severe issues relating to exposure to benzene. These details are crucial when establishing if you have been affected and whether you may be able to file a sunscreen recall lawsuit in Arkansas.
What Can a Lawyer Do to Help?
Johnson & Johnson is a huge multinational company. Victims of defective product lawsuits always get cold feet when dealing with such big companies. These companies have their own defense lawyers who always try to get them off the hook during litigation.
At Keith Law Group, our product liability lawyers are ready to prove that Johnson & Johnson's negligence led to your injuries. The pharmaceutical manufacturer failed to warn consumers about the risks of the sunscreen products they manufactured. It did not disclose the presence of harmful carcinogens within its products. Our mass tort lawyers in Arkansas will review your case and advise you if you should file a Neutrogena sunscreen lawsuit.
Building a strong case takes time. Our lawyers at Keith Law Group will work tirelessly to gather relevant evidence about your Johnson & Johnson sunscreen lawsuit. We are well-versed in both federal and state product liability laws. Our legal team will work diligently to make sure you don't miss any deadline that could jeopardize your Johnson & Johnson sunscreen claim.
Keith Law Group can help you recover maximum compensation for your injuries. The compensatory damages you may receive after a successful Neutrogena sunscreen lawsuit include:
• Medical bills, including chemotherapy and radiation
• Lost earning capacity
• Lost income
• Pain and suffering caused by the diagnosis
If you've been harmed by the recalled sunscreen products, let our reliable lawyers handle your Arkansas sunscreen recall lawsuit. We have the experience and resources to deal with negligent companies whose products cause untold suffering and illnesses to consumers.
Schedule a Free Case Review With Our Arkansas Sunscreen Recall Lawsuit Lawyers
Sunscreen products are designed to protect us from harmful UV rays. This, in turn, prevents skin cancer. Ironically, the recalled sunscreen products by Neutrogena and Aveeno contain high levels of benzene, a cancer-causing ingredient. Many questions remain on how this harmful compound ended up in Johnson & Johnson sunscreens and whether the manufacturer knew and chose to withhold the information.
If you have been diagnosed with cancer or have severe side effects brought about by the use of the recalled products, you may have legal recourse. Our mass tort lawyers in Arkansas can help you file a Johnson & Johnson sunscreen lawsuit.
The manufacturer should be held accountable for allowing consumers to use products with high levels of benzene that endanger their health and wellbeing. Our attorneys are ready to fight for and protect your rights, ensuring you get maximum compensation for your damages.
Contact us today for a confidential case review with our competent legal team. It is 100 % risk-free. Let us review your claim and offer you sound legal advice regarding your Arkansas sunscreen recall lawsuit.