The CDC suggests that 1 to 3 million severe infections happen every year in assisted living facilities and nursing homes. Infections have been linked with high mortality rates, substantial healthcare costs, prolonged hospital stay, and rehospitalization. An infectious disease outbreak can decimate an entire resident population, given how nursing homes offer the necessary ingredients for infectious diseases to fester. Generally, elderly folk in nursing homes have many functional impairments and chronic diseases that leave them open to infectious diseases.
The facility's condition can aggravate the problem or incidentally expose their nursing home residents to infectious diseases. Here at Keith Law, our nursing home infection lawyers have helped thousands of nursing home abuse victims in Arkansas to recoup millions of dollars for their related losses. You can be sure that an attorney at our firm will pull no punches when pursuing your claim. For a no-cost and non-obligatory consultation, call us at (479) 326-7734.
Infections Nursing Home Residents Are At Risk Of Developing
Some of the prevalent nursing home infections worth mentioning include influenza, urinary tract infections, soft tissue infections, antimicrobial-resistant bacteria, diarrheal diseases, and respiratory infections. Let's look over some of them:
Respiratory Tract Infections
These outbreaks can be derived from residents with reactivation tuberculosis and nonresidents, visitors, or staff suffering from an acute respiratory infection. Upon gaining entry into the nursing home, respiratory pathogens usually disperse rapidly among staff and residents. They may spread through indirect or direct contact, large respiratory droplets, or airborne droplet nuclei. Respiratory tract infections are the most frequent cause of mortality in nursing home residents.
Urinary Tract Infection
This is the most prevalent infection in nursing homes. The risk of contracting both bacteriuria and UTIs significantly increases with the existence of an indwelling urinary catheter. For instance, an estimated 3-7% of nursing home residents with an indwelling urinary catheter will contract a UTI every day the catheter is in place. 30 days following catheter insertion, the widespread presence of bacteriuria will be almost 100%. It's approximated that 50% of nursing home residents having a urinary catheter are likely to contract UTIs.
Diarrheal Diseases
Diarrheal diseases in nursing homes are primarily caused by bacterial and viral gastroenteritis. Elder folk have decreased gastric acid production and are therefore more susceptible to contracting infectious gastroenteritis. Gastroenteritis in older nursing home residents is linked with increased mortality and morbidity, largely because of a higher dehydration risk.
Soft Tissue Infections
Older residents in nursing homes are particularly vulnerable to soft tissue and skin infections because of multiple physiologic alterations that happen with aging, including extended wound healing, atrophy of dermis and epidermis, and decreased resistance to exterior insults. Dry, itchy skin can serve as a gateway for pathogen entry. Nursing homes bacterial infections include necrotizing fasciitis, erysipelas, and cellulitis.
On the other end, chronic wound infections include vascular ulcers, diabetic wound infections, and pressure ulcers. Other infections include tinea Versicolor, intertrigo, viral skin infections like scabies, simplex, and herpes zoster.
Measures A Nursing Home Should Take To Prevent Infections
To help prevent residents from developing infections nursing homes should take these precautions:
Isolation and Precautions
Outbreak Control
Infection Surveillance
Hand Hygiene and Asepsis
Staff Education and Training
Resident Care
Antibiotic Stewardship
Be Compliant With Local, State, and Federal Regulations
If the mentioned prevention and control measures are overlooked or completely disregarded, you may have legal grounds to pursue a claim.
How Can Liability Be Proven For A Nursing Home Infection Claim?
Elder folks residing in nursing homes and assisted living facilities are susceptible to infection, with the risk of escalation being high, and because of this, proving liability can be challenging. Nursing homes are legally mandated to prevent conditions that can result in wrongful death. One thing about nursing homes is that they have to maintain strict hygiene and meet other health and safety regulations. If you or somebody you know has fallen ill due to an infection and you believe it was due to negligence, call us now to get free legal counsel.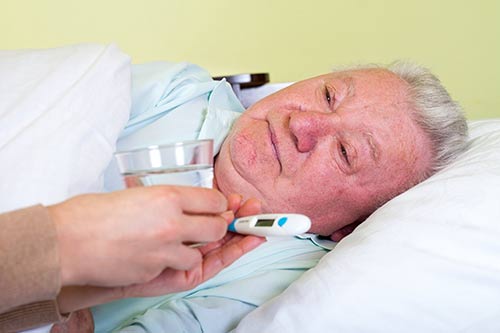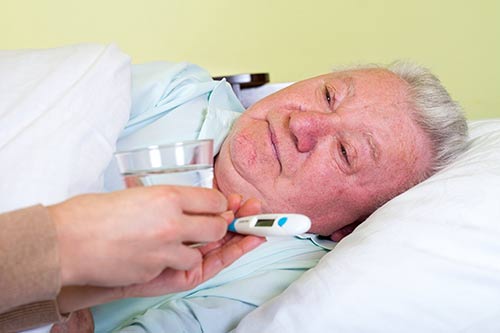 To prove liability in a nursing home infection claim, we will have to definitively show that the caregiver or nursing home didn't provide reasonable care and acceptable duty of care. This may encapsulate things like improper bathing and cleaning, inadequate staffing, poor hygienic conditions, and failing to diagnose and treat infections properly. Keith Law can help you seek justice!
How An Attorney Can Help Your Claim
Our team of nursing home infection lawyers has the knowledge needed to handle these types of cases. We will combine the documentation proving the infection(s) contracted as a result of the nursing home or caregiver's actions. From there, we will counsel you on the best legal course of action to take that will benefit your wellbeing. We will help prove your nursing home liability claim and ensure you get the compensation you deserve.
How Much Will An Attorney Cost?
Some firms require clients to pay attorney fees when making a compensation claim. Here at Keith Law, we operate differently and offer our services on a contingency fee basis. This means if we don't win your nursing home infection lawsuit we won't charge you anything. We will only charge you after successfully winning the claim.
How Long Do You Have to File a Nursing Home Infection Claim?
As per Ark. Code Ann. § 16-56-105, the statute of limitations to file a nursing home infection claim in Arkansas is three years from the discovery date. If you fail to file your claim within this period, it will be deemed void.
Schedule A Free Consultation With Keith Law Group
Infectious diseases are a serious problem and have been linked to over 380,000 nursing home deaths every year. Unfortunately, common occurrences and harrowing consequences of infectious diseases in nursing homes are usually unappreciated and go unrecognized. Nonetheless, these facilities offer a suitable environment for the contraction and eventual spread of infection to vulnerable residents sharing resources such as water, food, air, and health care.
Furthermore, residents, staff, and visitors will bring pathogens from the community and hospital with them. Even so, nursing homes are mandated by law to protect its residents. So if you or a loved one has been a victim of a nursing home infection, we at Keith Law in Rogers, Arkansas, have the skills and knowledge required to secure your deserved compensation. You can reach out to us at (479) 326-7734 to schedule a no-cost consultation.