Regardless of where you live in the United States, the law stipulates that you should respect all the other road users, irrespective of the means of transport they are using. Bicycle riders are often disregarded by other motorists, something that makes it common to see accidents involving bike riders every day. Biking is a healthy and eco-friendly way of commuting, but it can prove to be deadly if a deadly collision occurs.
If you were hit by a negligent motorist while riding your bike our Rogers bicycle accident lawyers are here to help you to recover compensation for the injuries and damages you suffered. Get your claim started with a free consultation, call (479) 326-7734 to get in touch with our personal injury lawyers in Rogers.
Common Causes of Bicycle Accidents
Bike accidents can result from a wide variety of factors, most of which are tied to the driver. While bikers are supposed to enjoy the same benefits as other road users, drivers treat them as second-class motorists and try to bully them on the road. Common causes of accidents involving bikers include:
Distracted driving
Failing to leave adequate space between the bike and other vehicles
Speeding
Weaving through traffic
Unwarranted lane changes
Running a red light
Failing to yield
Impaired riding
Riding under the influence
What Bike Laws Does Arkansas Have?
In the state of Arkansas, bicycles are not classified as vehicles. However, there is a clause that states, "every person riding a bicycle or an animal or driving any animal drawing a vehicle upon a highway shall have all the duties applicable to the driver of a vehicle, except for the rights that do not apply to them naturally." Besides, there are specific laws that are specific to bicycles. For instance, one states that cyclists may use any public road, street, or highway in Arkansas except for the freeways and controlled-access highways.
To put this into perspective, bikers are allowed to ride on all sidewalks in the state of Arkansas, except for the specific cities that have put in place local rules that prohibit riding in the sidewalks. When riding on sidewalks, cyclists are expected to obey all traffic signals, ride on the right side of the law, yield to crossing traffic when they arrive on a large road, and yield to traffic in the new lane when approaching an intersection.
When riding at night, cyclists should have a white headlight and a red tail light that can be visible from at least 500 meters away.
How Is Fault Determined in Bike Accidents in Arkansas?
The state of Arkansas is a contributory negligence one, and in the event of a bike accident, the blame will be assigned proportionally depending on the circumstance. This means that the deciding entity will look at the happenings before the accident and assign blame to both parties.
If your fault is proportional to the driver's responsibility, in that both of you are equally responsible, you won't be eligible for any compensation. If your blame is lesser than 50%, you will be qualified for compensation, but it will be deducted to the tune of the responsibility you were assigned.
What Should You Do After a Bicycle Accident?
The steps that ensue after a bicycle accident can go a long way to determine if you will get the compensation you deserve or not. This way, it is critical to do the right thing and ensure that this goes a long way to determine your fate at the end of the case.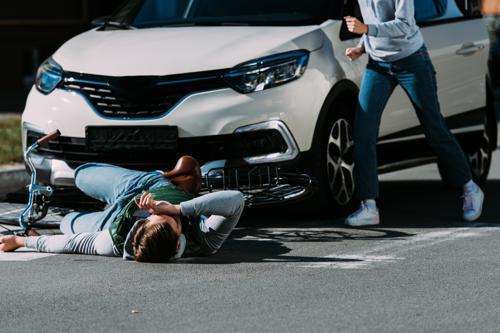 Contact the Police
They should be the first responders in case of any crash as they need to record the accident. They will also facilitate the securing of the accident scene and see how the wreckages will be towed to a safe place.
Help any Injured People in the Accident Scene
Check on them and see if you can do any first aid and save lives. If some people are still lying in dangerous places and cannot move due to the impact, move them to a safe place.
Exchange Information With Everyone Involved
Some things that you need to collect include their contact information, car registration number, and their insurance information.
Gather Evidence If Possible
This evidence will be used by your lawyer to build a strong case. Take advantage of your smart device to get images of the accident scenes and be sure to capture the essential parts such as skid marks and the condition of the wrecked bike.
Do Not Admit Fault
You might be the one responsible for the accident, but let your lawyer handle this. Your statement could be used against you further down the road.
Get Medical Attention
Do not leave an accident and go straight home, assuming that you are perfectly alright. You can sustain internal injuries that might not manifest themselves like the external ones. This way, ensure that you seek medical attention as soon as you leave the scene. From here, contact your bike accident lawyer and let them start processing your claim.
What Type of Damages Can I Recover After A Bicycle Accident?
There are three different types of damages you can recover for a bicycle accident claim in Rogers, Arkansas.
Economic damages are ones that have financial proof. They include medical bills and lost wages.
Non-economic damages are ones that have no financial proof, for instance, pain and suffering, loss of consortium, and emotional stress.
Punitive damages are ones designed to punish negligent people and deter them from acting that way in the future.
How Can A Lawyer Help With A Bike Accident Claim?
Bike accident claims are complicated since the defendant will try hard to nullify the claim and pay you a minimal amount. This way, it is good to have an experienced bike accident lawyer who understands the technicalities of such cases and will prepare the evidence and build a strong case to support your claim. If the matter goes to litigation, they will prepare for it and represent you in court to try and convince the jury to award you the compensation you deserve.
Contact A Rogers Bicycle Accident Lawyer at Keith Law Group
For more information about your legal rights and financial compensation that you might be entitled to recover after being involved in a bike crash with a vehicle, contact our Rogers personal injury firm at (479) 326-7734 for a free consultation.